Американское полицейское государство и диктатор против своего народа. Мало того, что загоняют весь мир под колонию, так и своих загоняют в стойло хуже чем сев.корея.




После того, как демонстранты прорвали один из полицейских заслонов у Белого дома, Секретная служба президента сопроводила его с женой и сыном в специальный бункер. Таков протокол безопасности, но это событие вызвало огромную волну насмешек над Дональдом. Он же не нашел ничего умнее, чем заявить, что … был там с инспекцией:
https://thehill.com/homenews/administration/500882-trump-claims-he-visited-bunker-briefly-during-the-day-to-inspect-it?fbclid=IwAR0pJAk8AkbcVHCP3kVgRuNFziZECOZc8IUidPq9rADF9TT-dxoXfUDb-Xw

- хуже того, Дональд устроил вылазку к сожженной протестующими исторической церкви возле Белого дома, где устроил фотосессию. Все бы хорошо, да только для этой прогулки пришлось разгонять демонстрантов слезогонкой и дубинками. Этот шаг вызвал весьма противоречивые чувства даже у его сторонников:
https://www.kommersant.ru/doc/4365922

- и да! Он таки построил Стену! Но не с Мексикой. А вокруг Белого дома. Там спешно нарастили забор, дабы протестующие не проникли к телу:
https://thehill.com/homenews/administration/501124-more-fencing-installed-around-white-house-complex?fbclid=IwAR3WLBVcL4xDHfU9zg2egZCx7dSSjwqQbG4Set8nyvORZZit7Wu24daeSJM

- ответ протестующих не заставил себя ждать. Мэр города поддержала требование переименовать часть улицы, ведущей к Белому дому. Ну а народ живенько нарисовал на асфальте желтыми буковками по всей её ширине - "Black lives matter". Фоточка с видом приколота, ибо символизирует.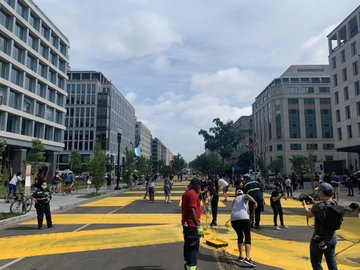 President Trump on Wednesday denied that he was rushed to an underground bunker at the White House as protests grew violent on Friday evening, claiming he only visited the space briefly during the day.

"It was a false report," Trump told Fox News's Brian Kilmeade during a radio interview Wednesday morning, insisting that he went down to the bunker to "inspect" it during the day and not during the protests at night.

"I went down during the day and I was there for a tiny, little, short period of time and it was much more for inspection," Trump said. "These problems are during the night, not during the day."

"I've gone two or three times, all for inspection," the president continued. Trump said there was never a need for Secret Service agents to move him to the bunker during the evening protests.

"There was never a problem," Trump said. "Nobody ever came close to giving us a problem. The Secret Service does an unbelievable job of maintaining control of the White House."

Trump was disputing reports from multiple outlets, including The New York Times and The Associated Press, that he was rushed to the bunker, known as the Presidential Emergency Operations Center, on Friday night as protests grew increasingly intense around the White House.

The underground area is typically used to protect presidents when the building is under threat. In 2001, it was used to protect Vice President Dick Cheney, and later President George W. Bush, during the Sept. 11 terrorist attacks.

"They didn't tell me that at all," Trump said when pressed on whether the Secret Service ever asked him to go to the bunker for safety purposes during the protests. "But they said it would be a good time to go down, take a look, because maybe sometime you're going to need it."

Protesters have been demonstrating in Washington, D.C., and other cities across the country in the wake of the death of George Floyd, a black man who died last Monday after a white police officer knelt on his neck for nearly nine minutes during an arrest. Most of the protesters have been peaceful, but others have turned to violence, looting stores and destroying property. The demonstrations have also led to clashes between protesters and law enforcement.

Trump has sought to crack down on the unruly protests while claiming he stands with nonviolent protesters demonstrating against Floyd's death. Trump tweeted extensively about the Friday night protests the following morning, praising Secret Service officers who protected the White House complex and warning protesters would encounter "vicious dogs" and "ominous weapons" if they came too close. Trump said he "watched every move" of Secret Service agents inside the White House.

The Trump administration has faced scrutiny after law enforcement forcefully cleared protesters from Lafayette Square near the White House on Monday evening before Trump walked to St. John's Church, which had been vandalized the night prior, to stage a photo opportunity. Multiple reports have indicated that Trump sought the photo opportunity because he was unhappy about news reports of him taking refuge in the bunker.